Why Choose Ashley?
If you shop for home furnishings either in brick-and-mortar stores or online, you will almost certainly come across products manufactured by Ashley Furniture Industries. The Wisconsin-based company has facilities in Pennsylvania, Florida, North Carolina, Indiana, Mississippi and California that make and distribute products for sale by furniture stores, online retailers like Amazon and more than a thousand independently owned and operated Ashley HomeStores.
Ashley has grown from obscurity to market dominance in just a few decades, and the company is now America's largest retailer of bedding and furniture. Consumers have embraced Ashley Furniture products because they are stylish, well made and affordable, and the company has also benefited from positive media coverage of its philanthropic efforts and focus on domestic manufacturing.
History
Some companies rise to prominence because their scientists and engineers developed revolutionary products or technologies, while others become household names after finding new ways to market and distribute existing goods. Ashley Furniture is different because it has experienced almost uninterrupted growth by innovating at every stage of the supply chain. The company has built railroad spurs to reduce shipping times, developed new finishing techniques that changed the furniture industry and used the franchise model to rapidly expand its market presence. Let's take a closer look at this remarkable company.
Founding and Milestones
Ashley Furniture was founded in 1945 by an entrepreneur named Carlyle Weinberger. Like most other furniture companies, Weinberger's new venture did not actually manufacture its own products. Instead, it served as a sales outlet for furniture makers close to its Chicago, Illinois headquarters. Weinberger became primarily known for occasional tables aimed at the luxury end of the market, and his company was reasonably successful. Weinberger soon opened a second branch in Indiana, but that was where his expansion stopped.
Ashley began to grow again in 1976 when a group of investors led by Ronald G. Wanek purchased the company. Wanek grew up on a Minnesota farm where he learned about furniture making by watching his grandfather and great uncle make tables and chairs. Arcadia Furniture, the company he founded in 1970, made products that were sold by Ashley. The entrepreneur wanted to expand his product range because he saw a great deal of potential in the North American furniture market, and he feared that others would swoop in to seize these opportunities if he did not act quickly.
After taking control of the company, Wanek wasted no time. Focus was switched from the luxury to the middle-income market, and it was not long before Ashley furniture could be found in popular store chains like Sears, Kmart, Montgomery Ward and Levitz. Bedroom furniture was added to the existing line of tables and cabinets, and manufacturing capacity increased significantly. Wanek also moved the company's headquarters from Chicago, to Arcadia, Wisconsin. By the mid-1980s, Ashley Furniture offered more than 350 products and had annual sales of more than $10 billion.
This growth was carefully planned. Wanek noticed how Walmart had become a publicly traded company just eight years after opening its first store, so he studied the Arkansas-based retailer closely and used what he learned to develop Ashley's management structure and supply chain logistics. The furniture market grew increasingly competitive in the 1970s, '80s and '90s, but Ashley's market share continued to grow. The company shortened shipping times by building spur lines that connected its Arcadia factory with the main railroad, and it also purchased its own fleet of semi-tractor trailers. When foreign products began to arrive in American stores, Ashley set its products apart by making "made in the USA" a cornerstone of its marketing strategy. In 2007, Ashley surpassed Walmart to become the largest furniture and bedding retailer in the United States.
In 1986, Ashley caused a major stir in the furniture industry when it unveiled a product line called "Millennium." The products had incredible luster thanks to a new polyester finishing method that also added a durable protective barrier, and they were so popular that a new factory was opened in 1987 to keep up with demand.
Ashley is now the world's largest furniture manufacturer. The company has retail outlets in 60 countries and employs more than 35,000 people, and virtually all the products the company sells in America are made in the United States. The company also has manufacturing facilities in China and Vietnam, but these factories produce goods that are sold in Asia, Australia and New Zealand.
Production and Manufacturing
This overview will focus on Ashley Furniture's range of mattresses and sleep products, but the company also makes bedroom, living room and dining room furniture in some of the most technologically advanced factories in the world. In this section, we will take a look at Ashley Sleep mattresses and the manufacturing facilities where they are made.
Products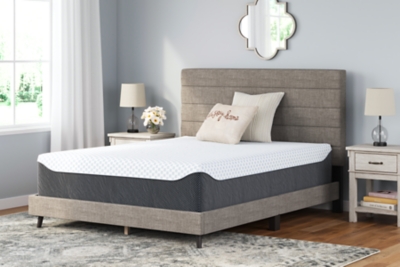 Ashley offers a wide range of memory foam, innerspring and hybrid mattresses in thicknesses ranging from a compact 8 inches to a luxurious 16 inches. Most models are available in twin, full, queen, king and California king sizes, and all mattresses are compressed and shipped in boxes. Decompression can take up to 48 hours to complete, but an Ashley mattress can be slept on during this time.
Compressed mattresses are wrapped in plastic before they are packed in boxes, and the fumes that collect can cause new mattresses to smell strange when the plastic is removed. Ashley mattresses sell briskly and are shipped directly to consumers, which means they are often unpacked before fumes have accumulated. If you do notice a chemical smell after unpacking an Ashley mattress, you will not have to worry because all of the company's products are CertiPUR-US certified. This means they have been tested by experts and found to contain no heavy metals or dangerous chemicals.
The Ashley mattress lineup comprises a lot of lines and models. All of these mattresses offer the promise of a good night's sleep, but the pricier models have more advanced sleep technology. The Ashley mattress lines currently available include:
The Ashley Chime mattress line
The Ashley Sleep Essentials mattress line
The Ashley Gruve mattress line
The Ashley Bonita Springs mattress line
The Ashley Anniversary Edition mattress line
There is an Ashley mattress for every type of sleeper, but finding the perfect bed in a large product range can be difficult. Ashley makes things a little easier by dividing its mattresses into these three categories:
Memory foam mattresses: The material that gives an Ashley memory foam mattress its comfort and support was originally developed by NASA to pad spacecraft seats and protect astronauts. Memory foam adapts to the sleeper's body contours to provide custom support, which makes this type of mattress an ideal choice for people who sleep on their sides and need a sleeping surface that allows their shoulders and hips to sink in a little.
Innerspring mattress: This is the kind of mattress that most people grew up sleeping on. An Ashley innerspring mattress provides a traditional sleep experience, which is popular among people who would rather sleep on rather than in their beds. Innerspring mattresses also tend to be firmer, which makes them popular among back and stomach sleepers.
Hybrid mattress: An Ashley hybrid mattress offers the advantages of both memory foam and innersprings. Deep layers of support coils are covered by layers of comfort and support foam, and all these layers are then wrapped in a cover that has been designed to stretch and draw heat away from the body.
Ashley mattresses contain some of the most advanced sleep technology currently available, but they are priced like a bargain brand. The coils in the company's hybrid models are individually wrapped to minimize motion transfer, and the memory foam found in an Ashley Gruve mattress is infused with charcoal and green tea to improve cooling, eliminate odors and maintain freshness. If you would like to learn more about the large and growing line of Ashley mattresses, you can find the answers to your questions on our main mattress page.
Manufacturing
The Ashley mattresses sold in North America are made in the United States. The company operates manufacturing facilities for its case goods and upholstered furniture in Wisconsin, North Carolina and Pennsylvania, but most of its mattresses are made at a state-of-the-art facility in Verona, Mississippi. These plants are filled with some of the most sophisticated manufacturing machinery available, and they are capable of turning out more than 250,000 pieces each week.
Ashley announced that it planned to open a mattress factory in 2013, and it chose Verona because of its rail access and close proximity to the company's Ripley and Ecru facilities. The 275,000-square-foot facility has three acres of covered manufacturing space and created more than 60 new jobs. In August 2020, Ashley announced that it was investing $22 million to expand and modernize the Verona facility and create another 30 jobs. The money was being spent on production line machines that run diagnostic checks and make adjustments automatically plus software that monitors all facets of production and provides updates in real time.
Ashley factories are renowned for their efficiency, and many of the company's best ideas for reducing costs, improving quality and speeding up production come from its assembly line workers. In 1983, the company introduced a program called the "Idea Network" to encourage workers to step forward and make suggestions. The program was a great success, and it remains an important part of the company's growth strategy.
Key Facts
Ashley supports several philanthropic causes and operates two nonprofit organizations. Ashley's Angels was founded in 1997 when one of the company's ambassadors heard about a mother who was living in a car with her two small children. The ensuing donations drive raised enough money to get the family an apartment, and the nonprofit has gone on to raise more than $3 million to help underprivileged children in Wisconsin, Pennsylvania, North Carolina, Mississippi and Florida.
This success inspired Ashley to found the Hope to Dream program in 2010. The nonprofit program donates mattresses, bed frames, bedding and pillows to help disadvantaged children in the United States enjoy the benefits of uninterrupted sleep. During its first 10 years of operation, Hope to Dream distributed more than 100,000 beds.
The company also operates a nonprofit organization that supports cultural and artistic causes. Each year, Ashley for the Arts holds a music festival in Arcadia's Memorial Park that raises funds for local charities and youth organizations. In 2021, the event raised $631,000. Memorial Park is an appropriate venue for the event because it was designed by Ronald Wanek and funded by his furniture company. The park is dedicated to American soldiers and features several monuments to the fallen.
Warranty Information
An Ashley mattress is backed by a 10-year warranty that protects consumers against manufacturing and material defects. Only customers who purchase an Ashley mattress new from the company or one of its authorized retailers can submit a warranty claim, and the coverage does not protect them against damage caused by improper use, accidents or abuse. Consumers who buy an Ashley mattress do not have to register with the company to receive warranty coverage, as this is done automatically at the time of purchase.
Any owner who has a problem with an Ashley mattress should contact the retailer where they purchased it to begin the warranty claim process. For mattresses purchased directly from the company, customers should call (800) 477-2222. All warranty claims should include the receipt or bill of sale and the serial number of the mattress, and consumers may also be asked to submit photographs of their mattress base or foundation. To avoid any warranty problems, an Ashley mattress should always be placed on a solid foundation or a slatted base with slats no more than an inch or two apart.
Check Out More Ashley Content From WakeUpSleepyHead
If shopping for a new mattress is giving you a headache, you should let WakeUpSleepyHead take care of the research for you. Our product roundups give you a snapshot of each manufacturer's product range, and our reviews provide all of the information you will need to make your final decision. You should also check out our press release and recall pages for the latest industry news.
Ashley Product Reviews
Our mattress reviews go beyond specifications, materials and features. They also cover other important considerations like the manufacturer's trial period and shipping policy, and they list a product's drawbacks as well as its benefits. WakeUpSleepyHead reviews also compare the features of the mattress being reviewed with competing models from other manufacturers, and they conclude by letting you know the good and bad things consumers have said in online reviews.
Ashley Product Roundups
If you are wondering why an Ashley Gruve mattress costs more than an Ashley Chime mattress, you should check out our product roundups. Written to help consumers get to know the large product ranges so they can find exactly what meets their needs, the roundups are short, informative and easy to read. We tell you what mattresses have in common and what sets them apart, and we finish by letting you know about the features that make each model great.
Ashley Press Releases
Mattress manufacturers retire old models, introduce new models and revise and improve their products all the time, so consumers who want to get the latest and best mattresses really have to do their homework. WakeUpSleepyHead press release pages make this easy by gathering the latest industry announcements together in one place. This is also the place to come to find out about special promotions, clearance events and consumer rebates.
Ashley Recalls
Furniture recalls are quite unusual, and mattress recalls are rarer still. When potentially dangerous product or manufacturing defects are discovered, you can rely on WakeUpSleepyHead to tell you all the relevant facts quickly. We let you know what kind of problem prompted the recall, the dangers consumers who own the product could face and what the manufacturer is doing to address the issue.
Where to Buy
You can get an Ashley mattress from an online retailer, furniture shop or one of the company's more than 1,000 independently owned and operated Ashley HomeStores. While all these outlets would sell you a great mattress, they might not all give you a great deal. If you want to save as much money as possible on your next mattress, you should check out the retailers we recommend at WakeUpSleepyHead. We check inventory levels and customer service as well as prices, so you can expect fast delivery and a smooth transaction as well as a reasonable price.
Similar Brands
An Ashley mattress will be comfortable to sleep on for many years, but there are plenty of other choices out there. Before you make your final choice, you may want to check out mattresses from some of the other brands we cover at WakeUpSleepyHead. These include:
Intex
Layla
Leesa
Nectar
Novillo
Sleep Innovations
Stearns & Foster
Sweetnight Breeze
Tuft & Needle
Zinus
Online Presence
Ashley is the world's largest furniture manufacturer and America's leading furniture and bedding retailer, so its online presence is significant. If you want to know more about the company, its history and its products, the following links could help you:
Contact Information
The Ashley mattress website has a Help Center page that includes options for contacting the company along with answers to frequently asked questions and a delivery tracking app. A link to start a live chat can also be found on each page of the website. The main customer service phone number is (866) 436-3393. Representatives are available to accept calls from 7 a.m. to 7 p.m. Central Time on weekdays and from 7 a.m. to 5:30 p.m. on Saturdays.